news & media (1145)
Children categories
Friday, 23 March 2012 16:44
Written by Linda
Need a better lighting solution for your business? Visual Communications Company (VCC) is recognized as a pioneer in the optoelectronics industry developing today's most innovative LED indication and illumination systems. VCC offers customized value-added services based upon the unique lighting design and complex assembly needs of customers' products.
Listening can be illuminating. That's why the VCC team starts each development assignment by talking through specific product performance objectives and custom LED engineering requirements with their customers.
VCC considers LED lighting to be crucial to the technology addressing the demand to move to more sustainable, energy efficient lighting solutions in a wide range of industries. LEDs are eco-friendly as the components are 95% recyclable. LEDs comply with Energy Star standards and requirements as they use anywhere from 30% to 120% less power, over fluorescent and incandescent bulbs respectively, and save 3000 times their own weight in greenhouse gases. LEDs typically have longer life cycles, up to 50 times that of other lighting options. This not only reduces replacement costs but also the maintenance costs and personnel associated with servicing the lighting circuitry.
VCC 's products are made with high quality LEDs for all of your smart indication and lighting applications. Whether you are developing an optical signaling circuit, data transmission design, backlighting set-up, control panel or any number of additional smart lighting designs, we have the LEDs, Litepipes™ and PCB components to make your design work.
And VCC has committed to offset 100% of its annual carbon footprint created by its business activities, by supporting the projects and mission of Carbonfund.org.
"We've built our business on excellent stakeholder relationships. In the new millennium, we believe that providing these groups the highest level of service includes making socially responsible and environmentally sound choices." – Andrew Zanelli, VCC President.
Contact Visual Communications Company today to discuss your energy efficient lighting needs, or download a copy of their brochure here.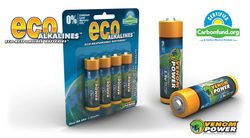 Today,
Venom Power
announced the release of its new Eco Alkaline™ batteries. These eco-responsible batteries feature:
Zero mercury
Zero cadmium
Zero lead
Zero carbon footprint, courtesy of Carbonfund.org's product certification program, featuring the first carbon neutral label in the US.
The Venom Power Eco Alkaline batteries have been certified carbon neutral after a detailed product life-cycle assessment. The assessment tracks carbon emissions, identified areas for emissions reductions, and offset the emissions that could not be avoided - like emissions generated in the manufacturing process. Venom chose to support our Paso Pacifico Return to Forest reforestation project. Validated by the Rainforest Alliance to the Climate, Community and Biodiversity Standards with Gold Distinction, the Return to Forest Project is helping to reforest as well as reconnect critical biological corridors along Nicaragua's Pacific coast. The project also brings economic opportunities to local communities while sequestering about 170,000 metric tons of carbon dioxide from the atmosphere. Venom's Eco Alkaline batteries are progressive, high quality consumer batteries with dependable performance. The batteries will begin shipping to retailers throughout North America during the fourth quarter this year. To learn more, please visit:
www.venom-group.com
. Read more about our product certification program
here
.
More...