news & media (1239)
Children categories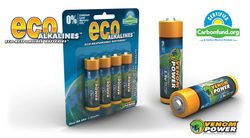 Today,
Venom Power
announced the release of its new Eco Alkaline™ batteries. These eco-responsible batteries feature:
Zero mercury
Zero cadmium
Zero lead
Zero carbon footprint, courtesy of Carbonfund.org's product certification program, featuring the first carbon neutral label in the US.
The Venom Power Eco Alkaline batteries have been certified carbon neutral after a detailed product life-cycle assessment. The assessment tracks carbon emissions, identified areas for emissions reductions, and offset the emissions that could not be avoided - like emissions generated in the manufacturing process. Venom chose to support our Paso Pacifico Return to Forest reforestation project. Validated by the Rainforest Alliance to the Climate, Community and Biodiversity Standards with Gold Distinction, the Return to Forest Project is helping to reforest as well as reconnect critical biological corridors along Nicaragua's Pacific coast. The project also brings economic opportunities to local communities while sequestering about 170,000 metric tons of carbon dioxide from the atmosphere. Venom's Eco Alkaline batteries are progressive, high quality consumer batteries with dependable performance. The batteries will begin shipping to retailers throughout North America during the fourth quarter this year. To learn more, please visit:
www.venom-group.com
. Read more about our product certification program
here
.
Friday, 09 October 2009 11:10
Written by Amy Givler
One of our business partners, Clean Air Lawn Care, is up for an Entrepreneur of the Year award. They're a very cool business--they use electric mowers, organic fertilizers and recycle all their clippings. Please take a second and vote for them! The Emerging Entrepreneur Award from Entrepreneur Magazine selects innovative startup businesses who stand out among their peers. After being chosen as a semi-finalist, the winner must be selected by the online community at
http://www.entrepreneur.com/e2009/vote/emerging.php#432
The winner will be featured in the January '10 and December '10 issues of Entrepreneur Magazine. It's a tremendous honor to be working with a company that has been selected one of the 5 semi-finalists for this award. We hope you will join us in helping to push them to the top! The contest ends on Monday, so
vote now
! And for those of you on twitter, please tweet this: RT @Carbonfundorg Vote Ends Monday! Help innovative green business win prestigious #Entrepreneur Award http://bit.ly/om3ao #green #eco Read the press release:
Clean Air Lawn Care Nominated for Emerging Entrepreneur 2009 Fort Collins, CO – Clean Air Lawn Care CEO, Kelly Giard, has been nominated to be Entrepreneur Magazine's Emerging Entrepreneur of 2009! This is an incredible honor for all of Clean Air Lawn Care and a testament to the changing face of business – a commitment to being green, setting high ethical and environmental standards, and being an example to others. Clean Air Lawn Care is a lawn maintenance business that uses clean electric and biodiesel powered equipment. The vehicles hauling this equipment have mounted solar panels which charge the electric equipment during the workday. The equipment is clean and quiet; the fertilizer is organic; the business is carbon neutral. Clean Air Lawn Care is the pioneer of sustainable lawn care franchising. In the October 2008 print issue of Entrepreneur Magazine, Clean Air Lawn Care was identified as one of the top 5 green franchises in America. The January 2009 issue of Entrepreneur Magazine showcases the Franchise 500 and Clean Air Lawn Care again is listed as one of the major players in a green franchise movement. The sustainable company has been receiving other national attention as well. In May of this year, the company graced the cover of Turf Magazine, an indication that change is indeed coming to the lawn care industry. Noting the sustainable methods used by Clean Air Lawn Care, the magazine stated, "Clean Air may have a jump on competitors who are clinging to traditional techniques." Why Sustainable Lawn Care… • 5-10% of the nation's air pollution comes from gas powered lawn equipment. • In one hour, one gas lawn mower can pollute as much as an SUV driven 23,600 miles. • The company saves $10,000 a year on gas and spends less than $500 to charge the equipment through renewable energy. • Electric lawn mowers cut noise emissions by 50%-75%. Through the use of electric equipment powered by renewable energy, Clean Air Lawn Care removed 32,000 pounds of air pollution equaling over 1,000,000 vehicle miles in 2008. The positive impact of Clean Air Lawn Care's business is parallel with growth. The company's growth equals a larger reduction in national air pollution. The online vote is taking place at http://www.entrepreneur.com/e2009/vote/emerging.php#432 Watch the video and learn how Clean Air Lawn Care is starting a revolution in lawn care and changing the way America mows the lawn.
More...