news & media (1244)
Children categories
Thursday, 10 December 2009 16:07
Written by Paul Burman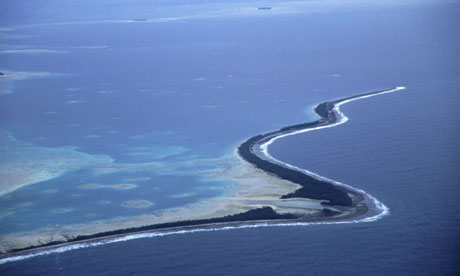 "Our islands are disappearing, our coral reefs are bleaching, we are losing our fish supplies. We bring empirical evidence to Copenhagen of what climate change is doing now to our states," -Dessima Williams, a Grenadian diplomat speaking for Alliance of Small Island States
Global warming induced seal level rise is already happening, and in all likelihood will continue for the foreseeable future. To many of us, this is an abstract concept with little everyday relevance - what do I care if the
sea rises 3 millimeters a year
? Well, 3mm is a lot when you live on an island small island nation that is barely above sea level. In Copenhagen, the Alliance of Small Island States (AOSIS) - a coalition of 43 small and extremely vulnerable Island Nations - has called for
a new legally binding treaty
that will cap temperature rises to 1.5 degrees C. The proposed agreements to date have focused on a 2.0 degree C temperature increase target. Holding temperature increases to 1.5 degrees would mean stabilizing atmospheric concentrations of CO2 at about 350 parts per million (ppm) - currently, concentrations are at about 387ppm and increasing every year. According to the
International Energy Agency
, the aggressive shift in the target will add about $10.5 trillion extra in energy-related investment by 2030 - a figure that is untenable to many Nations would would be asked to foot the bill. Many think that the 2.0 degree C temperature increase target is ambitious considering the current pace of action on the global scale. The small island nation of Tuvalu has been a vocal advocate of this
aggressive target
. This nation's emissions are tiny compared to total global output, and is essentially powerless to stop global warming without a global treaty. For Tuvalu, the issue of global warming and sea level rise is not abstract. It is real and it is happening now. There is a very real possibility that Tuvalu will be inundated and lost to the sea - sinking
3,000 years of history and culture
forever. I have never been to Tuvalu and I didn't know where it was in the world before today. But the idea of losing it forever saddens me unspeakably, not only on behalf of the residents of the country and others like it, but also because I may never have the option to explore this tiny island nation. Global warming threatens to relegate nations, peoples, cultures, traditions, foods, animals and so many other things to the history books for good. I hope that our leaders in Copenhagen have the will and commitment to fight to save out climate and the rich diversity of life and cultures it supports. And I hope that as individuals, we are all committed to reducing our carbon footprints today to help make that process a little easier.
Wednesday, 09 December 2009 16:50
Written by Paul Burman
"...Emissions are emissions. You've just got to do the math. It's not a matter of politics or morality or anything else. It's just math." - US State Department envoy Todd Stern
As the U.N. Climate talks in Copenhagen heat up, some predictable arguments are starting to play out in real time. There are still major questions as to whether an agreement is going to be reached, and moreover how that agreement should look and function.
Tensions at Copenhagen are rising
between nations, and particularly between the U.S. and China. Todd Stern, a top U.S. State Department negotiator in Copenhagen sums up the American
point of view quite well
: "If you look around at what countries in the world, they're actually doing a lot. China has put down a number. It might not be the number everyone would like to see. But it is a significant proposal." Mr. Stern diplomatically states that though commitments have been made by nations, they are not quite enough yet (I assume that he is including the U.S. in his assessment). But currently, the world appears to be waiting for the U.S. to lead, both in terms of action and financial support for green initiatives in developing nations. Developing nations feel as though developed nations have an obligation to do more to reduce emissions, considering developed nations have been spewing massive amounts of CO2 into the atmosphere for centuries now. The U.S. does not believe that developed nations should be penalized for historical emissions because the world was 'ignorant' to the problem of global warming up until modern times. How the world decides to reconcile these disparate positions is the challenge of Copenhagen. Stay tuned to the Carbonfund.org blog for regular Copenhagen updates. Carbonfund.org will reporting live from Copenhagen starting next week so check back regularly and
follow us on twitter
!
More...