news & media (1189)
Children categories
I often tell people that Carbonfund.org exists today because socially and environmentally concerned individuals and business leaders stepped up and took action to reduce their climate impact, support burgeoning technologies, and prove to the world that we can tackle climate change -- and do it cost effectively. What makes this more remarkable is that we did this despite a lack of US government leadership over the last three decades on climate change. Just a few years back, academics suggested carbon would cost $50-100 per tonne, a total non-starter for almost any government initiative to reduce emissions. Yet we are here today, talking about Copenhagen, Waxman-Markey and the Senate bill in large part because of the voluntary actions taken by a relatively small group over the last five or six years to prove the concepts, technologies, methodologies, costs and processes. Leadership is about stepping up to the plate when others will not, and I am always amazed and appreciative of our thousands of partners who have done just that. This is why it is so important these early leaders receive credit for their voluntary actions. Their vision and commitment turned into the first offset projects and investments. (I still can't imagine what it must have been like for the person at a large company to go into their boss's office a few years ago and say they wanted to offset their electricity use in California by buying these REC-things from Texas, or this carbon offset doohickey from New York.) Finally, we're making headway. The EPA has approved their first-ever carbon offset project, which Carbonfund.org has supported and brought through the EPA process. The House of Representatives has passed a great bill, thanks to the leadership of Reps. Waxman and Markey and many others, the Senate is working on a similar version, and thousands of delegates from around the world are in Copenhagen to work on a global deal to reduce emissions by about 80% by 2050. We're at a tipping point and Carbonfund.org must now participate in the national and international policy debates to ensure we maximize carbon reductions and verification while unleashing capital, technology and innovation to achieve these goals as quickly and cost effectively as possible. I am heading to Copenhagen this weekend for the climate talks to help push for a global consensus on massive carbon reductions during my lifetime, not just my kids'. This is a new space for us and we're working with policy experts to advocate for the best possible legislation in the US on climate change. These next several months will be crucial to our future, and we need the experiences of organizations like Carbonfund.org that have proven the concepts to ensure we get a bill (or treaty) that will work. We're enlisting the best minds in Washington and as a first step we're pleased to be working with the Podesta Group, a leading government relations firm, to help Carbonfund.org achieve its objectives. Done right, fighting climate change will create millions of jobs, save taxpayers money, reduce or eliminate our reliance on foreign oil, reduce our overseas defense responsibilities and help the developing world leapfrog on technologies and help their people. It will also clean the air, reduce asthma and other health effects of burning fossil fuels and save us billions in health costs. We'd hoped to get a US climate bill in 2009 but 2010 will work too. We're just so glad we're all talking climate policy. Finally!
Thursday, 10 December 2009 16:07
Written by Paul Burman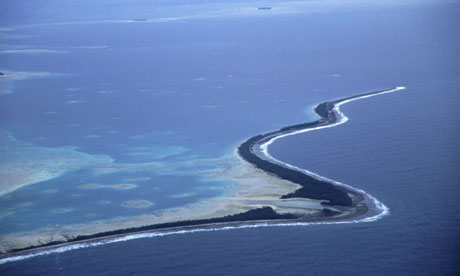 "Our islands are disappearing, our coral reefs are bleaching, we are losing our fish supplies. We bring empirical evidence to Copenhagen of what climate change is doing now to our states," -Dessima Williams, a Grenadian diplomat speaking for Alliance of Small Island States
Global warming induced seal level rise is already happening, and in all likelihood will continue for the foreseeable future. To many of us, this is an abstract concept with little everyday relevance - what do I care if the
sea rises 3 millimeters a year
? Well, 3mm is a lot when you live on an island small island nation that is barely above sea level. In Copenhagen, the Alliance of Small Island States (AOSIS) - a coalition of 43 small and extremely vulnerable Island Nations - has called for
a new legally binding treaty
that will cap temperature rises to 1.5 degrees C. The proposed agreements to date have focused on a 2.0 degree C temperature increase target. Holding temperature increases to 1.5 degrees would mean stabilizing atmospheric concentrations of CO2 at about 350 parts per million (ppm) - currently, concentrations are at about 387ppm and increasing every year. According to the
International Energy Agency
, the aggressive shift in the target will add about $10.5 trillion extra in energy-related investment by 2030 - a figure that is untenable to many Nations would would be asked to foot the bill. Many think that the 2.0 degree C temperature increase target is ambitious considering the current pace of action on the global scale. The small island nation of Tuvalu has been a vocal advocate of this
aggressive target
. This nation's emissions are tiny compared to total global output, and is essentially powerless to stop global warming without a global treaty. For Tuvalu, the issue of global warming and sea level rise is not abstract. It is real and it is happening now. There is a very real possibility that Tuvalu will be inundated and lost to the sea - sinking
3,000 years of history and culture
forever. I have never been to Tuvalu and I didn't know where it was in the world before today. But the idea of losing it forever saddens me unspeakably, not only on behalf of the residents of the country and others like it, but also because I may never have the option to explore this tiny island nation. Global warming threatens to relegate nations, peoples, cultures, traditions, foods, animals and so many other things to the history books for good. I hope that our leaders in Copenhagen have the will and commitment to fight to save out climate and the rich diversity of life and cultures it supports. And I hope that as individuals, we are all committed to reducing our carbon footprints today to help make that process a little easier.
More...