In a market economy, what we buy has the power to effect change far beyond the cash register. Join the Responsible Purchasing Network (RPN) and Carbonfund.org on December 10th, from 11:00am – 12:15pm Pacific Time (2:00 – 3:15pm, Eastern Time) for a
webinar
about addressing climate change in purchasing decisions.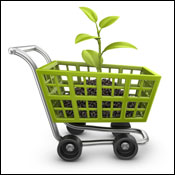 If a brand of coffee becomes popular, for example, it won't sit on shelves long and stores will order more because they can rely on this brand. The coffee company will have to produce more beans to meet the demand from the stores, necessitating a bigger harvest of crops and a larger manufacturing facility to handle all this coffee. If this brew is, say, a Sumatran blend, then more shipping will be needed to bring over the beans. These steps have an impact on the carbon footprint of the end product. Tune into the webinar to learn how your business or organization's purchasing practices can help meet your climate or environmental protection goals. RPN Director Alicia Culver will also highlight key product categories that can substantially reduce energy and GHG emissions while also saving money. Dare Wenzler, director of business development at Carbonfund.org, will describe the Carbon
Free
®
Certified label, how it was developed, and how it can be referred to when purchasing products for government agencies and businesses.
Click here
to sign up for the webinar.